01 Dec 2021
Serving up a Pan-Asian Snack Platter
MunchDu Chips - Truffle Mandu Chips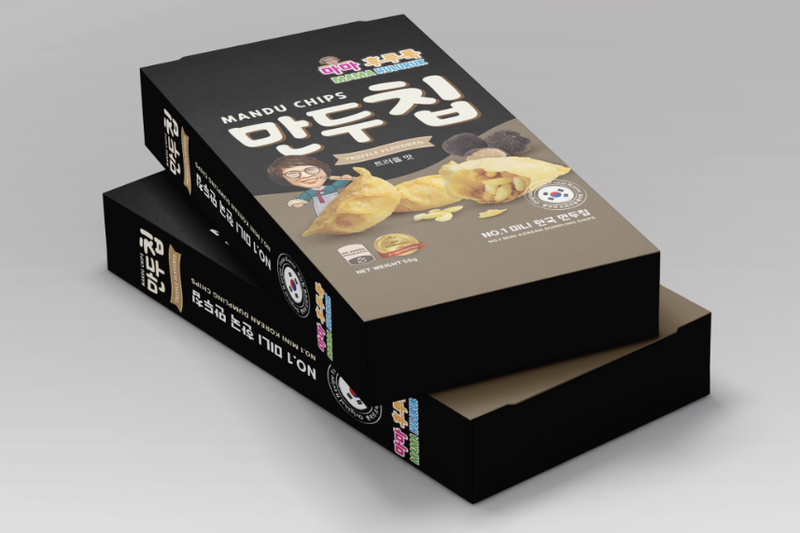 First up is MunchDu chips— a truly cross-cultural collaboration between Nanyang Polytechnic and Sinhan Holdings, a Korean chain restaurant. The first thing one notices about these chips is that they are not shaped like conventional chips, but like Korean mandu or dumplings.
Mandu are a must-have for the Lunar New Year in Korea, and the two founders of Sinhan Holdings— a Singaporean and a Korean — drew inspiration from the shape of the mandu to design a fun, eye-catching snack that piques one's curiosity.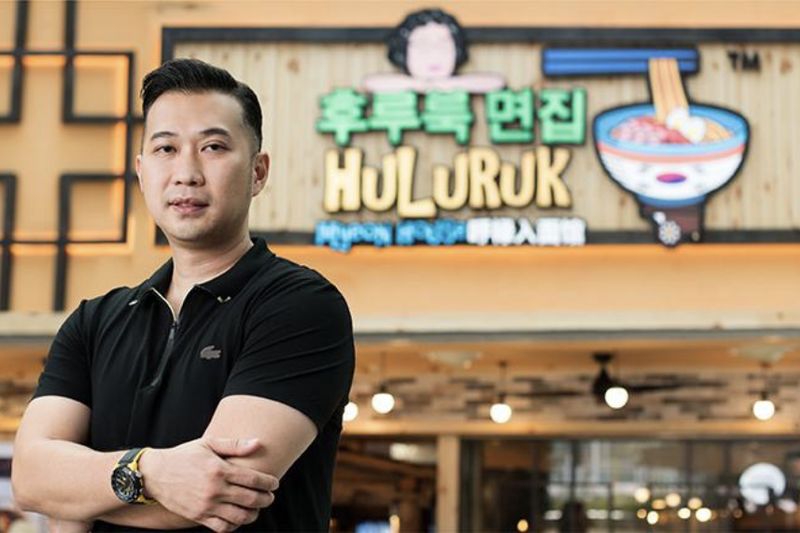 The MunchDu chips have a unique product texture as they use Korean dumpling skin as the base of the snack. The Korean dumpling skin is thin, crisp and shatters easily when eaten, giving it a satisfying crunch.
The MunchDu chips are made using a special recipe which incorporates truffle oil and truffle flavouring. The result is decadent but also comforting, with strong notes of umami. he snack is also entirely meat-free and made using plant-based products such as flour, rice, soybean and wheat.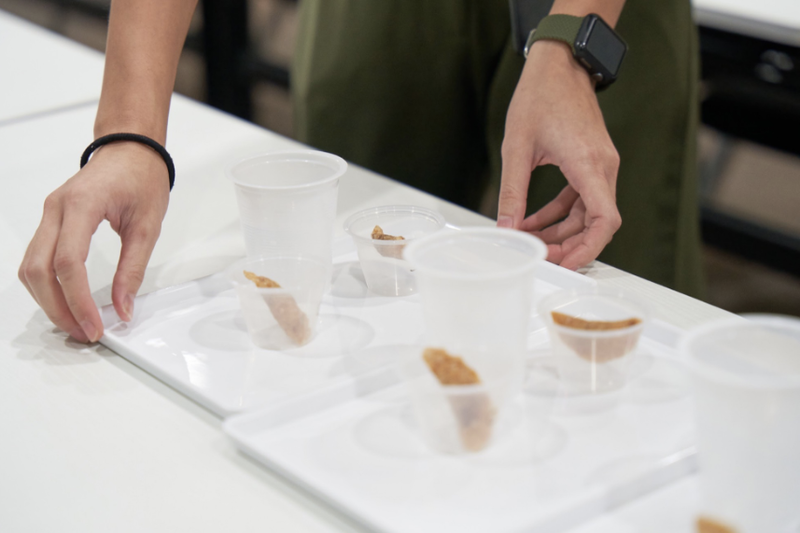 With its unique shape and concept, the snack development process hasn't been straightforward for the MunchDu team. After all, dumplings are usually boiled or fried with significant water content, whereas snacks are typically dry foods.
The team went through many trials to finalise the winning recipe, which took six to eight months of experimentation. They made improvements along the way — from manual folding to semi-automated production of the snack, which makes it more suitable for mass production. The team is looking to improve their productivity and reach new markets through the AGSC experience.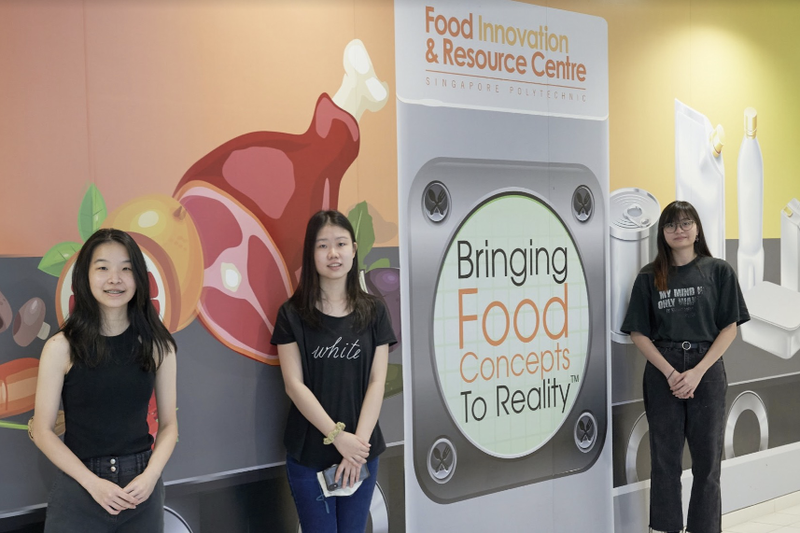 Their mentors from the SATS packaging consultation session shared important insights on packaging, and the team has since refined their packaging design.
"Our chips are fragile so nitrogen flushing is not suitable for packaging due to the potential breakage during transportation. Hence, we decided to modify our packaging by placing these delicate dumpling chips onto a tray before packing them into a box to prevent breakage.", shared the team. These details may seem trivial, but can actually make or in this case, break, a snack product.
Wok Puffs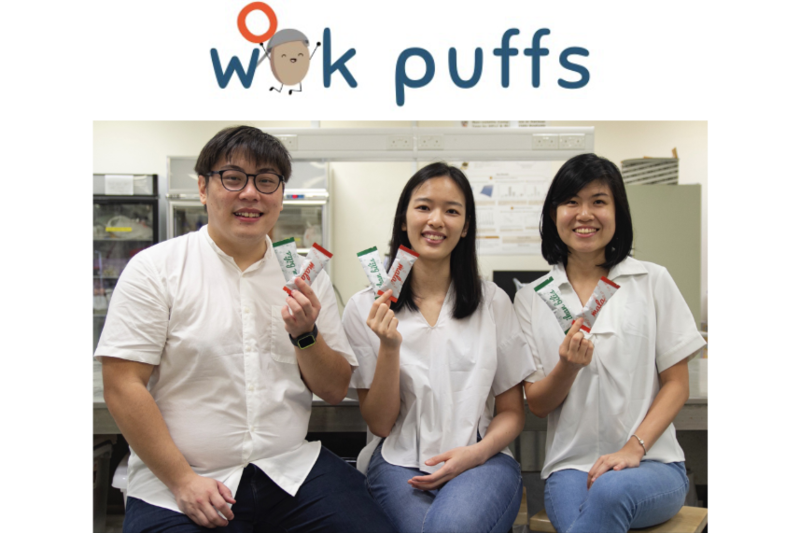 The young team, comprising Andrea, Jie Ai and Leonard, behind Wok Puffs are big fans of fried rice, and drew on their love of this common street food to create Wok Puffs. After all, the team shared that fried rice is a highly versatile and adaptable food, and "one can add anything and everything to it – your creativity is the limit."
Wok Puffs is a crispy rice puff snack that comes in three flavours from across Asia: "Nasi Goreng", with flavours of ikan bilis, garlic chips and spring onions; "Mala Fried Rice", with hints of peanut, chilli flakes and spring onions; and "Tom Yum Fried Rice", with tastes of dried shrimp, curry leaves and chilli flakes.
The team shared how they came up with the name of their snack brand, which also references the all-important wok hei ("breath of the wok") in Chinese cooking: "Be it in hawker centres or in our homes, the wok is fundamental to Singaporean cuisine – many of our local favorites are whipped up in a wok, which is why we decided that the word wok needs to be in our name. The second part of our name is a play on the word puffs. It references the base of our snack, rice puffs, but also conveys our goal of capturing the puff of the wok, the beloved wok-kissed flavour, in our snack."
The snack has also been designed with the health-conscious in mind, as the rice puffs are not fried but popped. Wholegrain brown rice is used, instead of white rice, which makes the snack higher in fibre and nutrients compared to snacks based on white rice. The snack is also individually packaged, with each serving placed in a sachet, which helps limit over-eating by exercising portion control.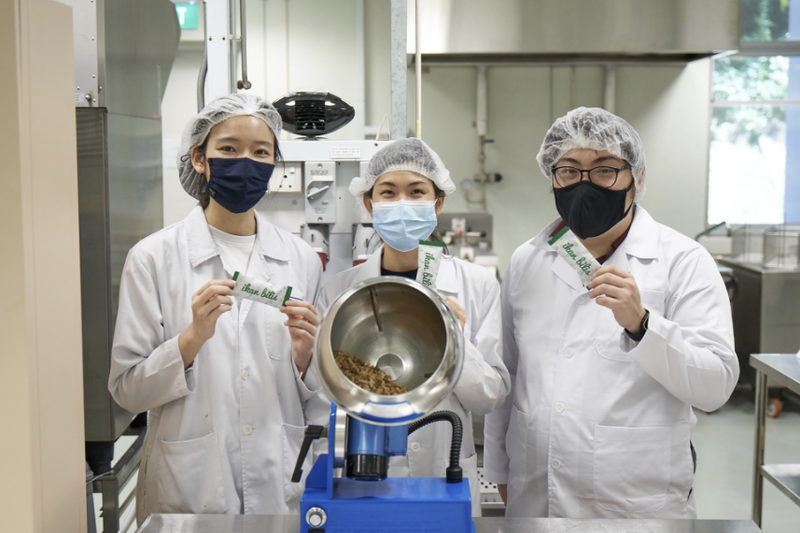 The team worked on the snack for three months, starting off with a homemade version that had certain inconsistencies, such as unevenly browned garlic chips, before producing a much more consistent product now.
This progress should come as no surprise as the team were undergraduate classmates in the Department of Food Science and Technology in NUS, and are all pursuing their interest in food technology at the moment in different full-time jobs.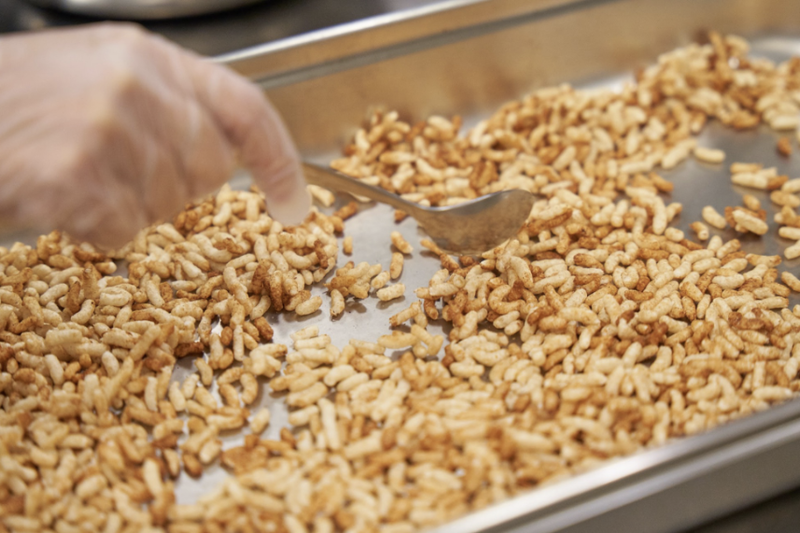 While the team has some background in food science and technology, they joined AGSC to learn about bringing their product to market. The mentorship and workshops conducted during the challenge have been helpful, and they believe that it will help them develop the know-how to move forward in the snack industry.
"Our industry mentors from Polar Puffs and Cakes have been very supportive, providing insights and guidance on our marketing direction and helping us refine our long term vision. Our FIRC mentor, Chen Yang, has also provided good technical advice on production and packaging — helping us to convert our lab scale prototype into something more scalable." shared the team.
The recent consultation session with the SATS innovation center, also gave them the chance to bounce packaging ideas off their experts — who provided constructive and practical advice that could not be found off the internet.
Stay tuned as we spotlight the last pair of finalists next week, who are working hard to bring fairly artisanal products to market.
Sign up for the latest innovation updates
Customise your preferences to receive updates in industries you're interested in.