14 Aug 2023
Hand Plus Robotics: Picking Productivity Through Open Innovation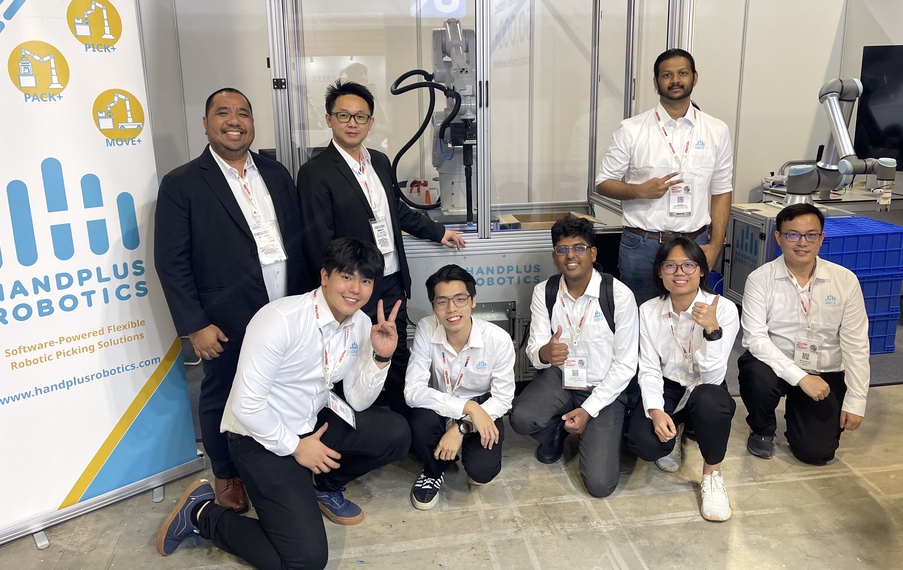 Hand Plus Robotics at Automex 2023 held in Malaysia, featuring their PACK+ robot.
Source: Hand Plus Robotics


In a small country like Singapore, how do you cope with increased demand, space, and manpower constraints?
For Hand Plus Robotics, the answer was automation. The global packaging automation solution market is set to reach US$155 billion by 2033¹, addressing problems such as packing accuracy, speed, and worker safety.
Getting the upper hand through the Trade and Connectivity Challenge
Hand Plus Robotics participated in the 2020 Trade and Connectivity Challenge (TCC), where startups and corporates connect to address industry challenges. Since its inception in 2019, over 30 corporates have launched their challenges through the TCC to source for solutions.
This year's edition concluded in July with the TCC Pitch Day, where nine finalists pitched their solutions to panellists after rounds of shortlisting and mentor roundtables. Selected finalists may get the chance to collaborate, co-develop, and pilot solutions with leading corporates.
In 2020, Hand Plus Robotics was able to testbed their PICK+ solution, a plug-and-play robot that can handle multiple picking configurations. After learning about the use-cases of leading corporates like DHL, they iterated on PICK+ and developed MOVE+ and PACK+, which are robots that pick and move, or pick and pack items respectively. Currently, MOVE+ is used as a demo unit at the DHL Asia Pacific Innovation Centre.

Providing helping hands for National Day Parade 2022
Following their win in TCC 2020, Hand Plus Robotics participated in the 2021 Industrial Transformation Asia-Pacific (ITAP) trade show, which aims to start, scale, and sustain companies' adoption of Industry 4.0 processes and solutions.
There, they found an unlikely opportunity – the Singapore Army.
"Major Chua Boon Kiat, Head Production, NDP Pack 22 Committee, approached us at ITAP 2021 and asked if our robots can be used for packing. We said yes.", said Dr Albert Causo, CEO and co-founder of Hand Plus Robotics.
Major Chua was looking to trial an automated packing solution for the goodie bags given out during the 2022 National Day Parade.
"We secured partnerships with Mitsubishi Electric Asia Pacific, OnRobot, and Creatz3D to support the automation project." Dr Causo continued.
Through these partnerships, Hand Plus Robotics designed and assembled the robots. "We built the machine in a week and tweaked its software for three days."
The automation solution project was a success, and a first for the Singapore Army. Shortly after, they shared Hand Plus Robotics' solutions on their Facebook page, garnering media buzz.

Leveraging innovation to keep growing
Participating in Open Innovation Challenges like TCC and leveraging platforms like ITAP helped Hand Plus Robotics grow their business, capture interests of large corporates like Universal Robots, ABB and Panasonic, and address challenges faced by startups and SMEs by accelerating their solution, accessing resources, and expanding their network.
"Small companies usually lack the resources and connections to bring their solutions to life. Enterprise Singapore has been valuable in this regard.", said Dr Causo. In addition, startups, SMEs, and corporates participating in Open Innovation Challenges stand to gain from each other by building on their respective strengths.
Hand Plus Robotics is hoping to go global after finding success at home. Starting with Southeast Asia, they are looking to build in-market knowledge and connections in Malaysia, Indonesia, Vietnam, and Thailand through the Global Innovation Alliance and Enterprise Singapore's Overseas Centres.

Shape the industries of tomorrow with the innovations of today
A spark of innovation can be all it takes to grow your business. Tap on open innovation to help you build capabilities, access talent, networks and markets.
Check out the ongoing challenges here and stay updated by subscribing to the Open Innovation Network newsletter!
¹ Packaging automation solution market expected to touch US$155 billion by 2033, Global Trade Magazine, 2023
Sign up for the latest innovation updates
Customise your preferences to receive updates in industries you're interested in.