13 Dec 2021
The Grand Final of Asia's Great Snack Challenge
The Top 10 finalists are a diverse group. Many of them have a passion for food, with backgrounds in food technology and science, and are on a mission to introduce Asian flavours into snack foods. But there are also hotpot enthusiasts, health food evangelists, ones looking for a career change, and even an actor.
Their snacks take inspiration from Asia and they give old traditions a jolt with their innovative creations. The finalists have taken their brainwaves from concept to execution through the challenge to showcase their years and months of experimentation on their snacks.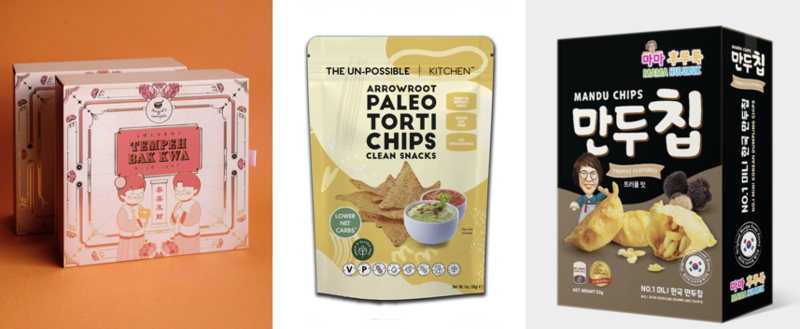 From tempeh bak kwa and healthy granola bars inspired by Traditional Chinese Medicine to mala-flavoured mushrooms, the finalists' tantalising creations are poised to be a hit with snack fans!

But now comes the ultimate test: the AGSC Grand Finals. There are many aspects to creating a successful snack, beyond its taste – it has to appeal to consumers and be produced at scale to be a commercially successful product. The judges of the AGSC Grand Finals will assess the finalists based on four criteria.
Taste: which goes beyond the flavour of the snack but also aspects such as texture, aroma and mouthfeel.
Market potential: how consumers will react and respond to the snack's pricing, branding appeal, as well as perceived quality and value.
Packaging and design: whether the packaging is functional and is well-designed, as well as the information presented on the labels.
Commercial scalability and viability: taking into account factors such as manufacturing cost, ability to scale up production, ease of storage and transportation.
The team that is best able to balance all these factors will take the crown. But of course, personal preferences will also play a role and this may well turn out to be the wildcard in the whole race.
A week from now, the grand winners will be revealed. Tune in to our livestream to find out more. We wish all finalists the best of luck!
Details of the Grand Finals
16 December, Thursday, Food Folks @ Lau Pa Sat (by-invite only event)

Sign up for the latest innovation updates
Customise your preferences to receive updates in industries you're interested in.