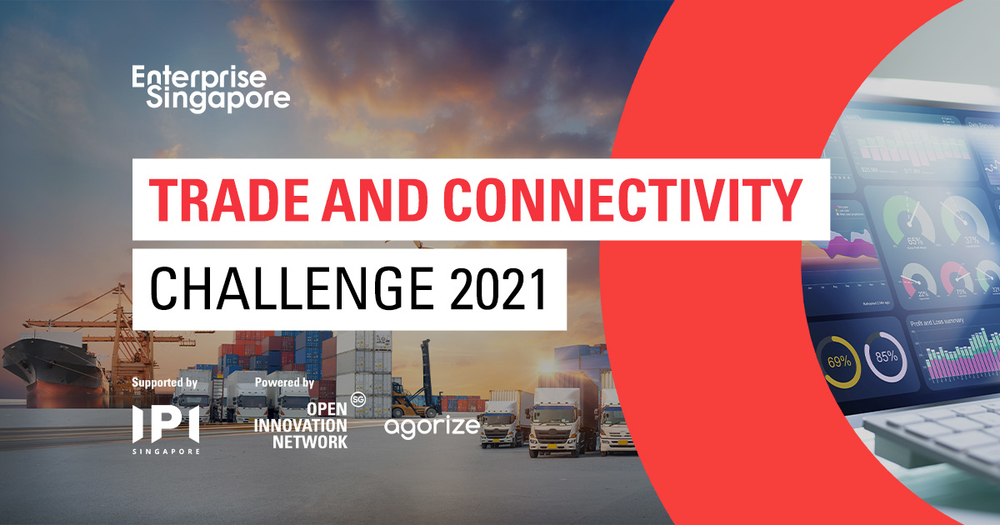 | | |
| --- | --- |
| Challenge Owner(s) | Cartrack, dnata, GKE, Legend Logistics, Lumens Auto Pte Ltd, Pacific Logistics Group (PLG), Sembcorp Marine, SingPost, UPS |
| Organiser(s) | Enterprise Singapore, Agorize |
| Industry Type(s) | Air Transport, Land Transport, Logistics, Sea Transport |
| Opportunities and Support | Opportunity to collaborate, co-develop and pilot solutions with leading global and local corporate partners |
| Application Start Date | 15 October 2021 |
| Application End Date | 6 January 2022 |
| Website | Click here to learn more |
About Challenge
Being one of the world's most connected countries with strong regional networks, Singapore is a strategic trade and connectivity hub. In recent years, Singapore has also transformed into one of the leading innovation hubs.
To help companies in Singapore's trade and connectivity sectors develop solutions that will address on-the-ground operational needs, the Trade and Connectivity Challenge (TCC) is back for its third edition!
Organised by Enterprise Singapore (Enterprise SG), TCC 2021 aims to drive partnerships in joint innovation, development and use of new solutions in the aviation, maritime, land mobility, logistics and trade sectors.
This year, we invite startups to showcase innovative solutions in growth areas such as big data, data analytics, Internet of Things (IoT), robotics & automation, improving supply chain management and more. Shortlisted companies will have the opportunity to collaborate, co-develop and pilot solutions with leading global and local corporate partners. The Challenge winner will stand to win the top prize of S$30,000 grant. A total prize pool of S$100,000 of grant prizes is made available for TCC 2021.
Learn More
Briefing Session
SingPost
Monday, 1 November 2021
14:00 - 14:30 (GMT +8)
Legend Logistics
Monday, 1 November 2021
17:00 - 18:00 (GMT +8)
PLG
Tuesday, 2 November 2021
11:00 - 12:00 (GMT +8)
UPS
Tuesday, 2 November 2021
12:30 - 13:00 (GMT +8)
Sembcorp Marine
Tuesday, 2 November 2021
14:30 - 15:30 (GMT +8)
Lumens Auto
Wednesday, 3 November 2021
10:00 - 10:30 (GMT +8)
dnata
Wednesday, 3 November 2021
11:00 - 11:30 (GMT +8)
GKE
Wednesday, 3 November 2021
14:00 - 14:30 (GMT +8)
Cartrack
Wednesday, 3 November 2021
15:00 - 16:00 (GMT +8)

Sign up for the latest innovation updates

Customise your preferences to receive updates in industries you're interested in.

;