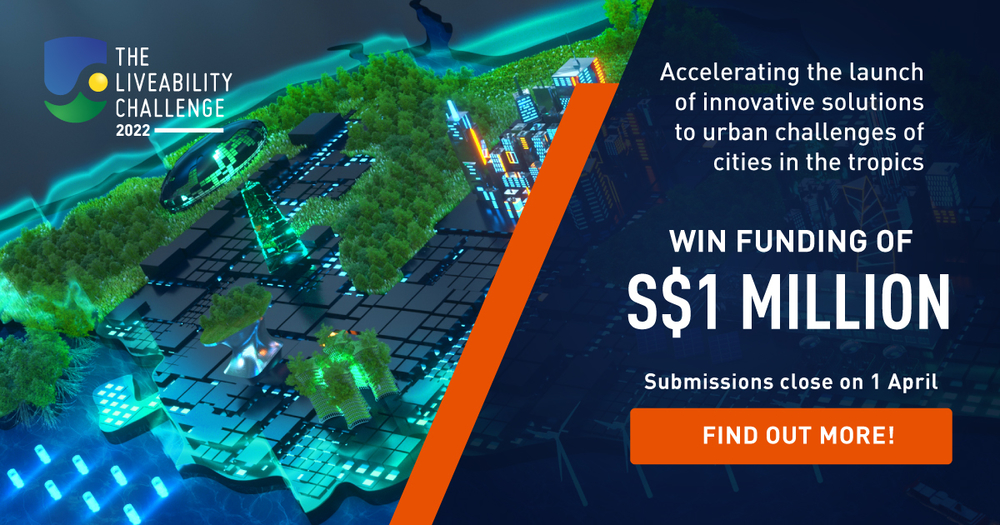 | | |
| --- | --- |
| Challenge Owner(s) | Temasek Foundation |
| Organiser(s) | Temasek Foundation, Eco-Business |
| Industry Type(s) | Agri-tech, Circular Economy & Sustainability, Food Manufacturing, Sustainable Energy |
| Opportunities and Support | Stand a chance to win up to S$ 1 million in grant funding for project development, among other opportunities |
| Application Start Date | 14 January 2022 |
| Application End Date | 13 April 2022 |
| Website | Click here to learn more |
About Challenge
The Liveability Challenge is back on a search for innovative solutions to combat urban challenges of the 21st century! As the world's population is expected to increase to 10 billion by 2050, current infrastructure and resources are straining to catch up. How can we live sustainably and within our planetary boundaries?
From 14 January to 1 April 2022, submit your ideas to vie for the grand prize of up to S$1 million in grant funding for project development, among other opportunities!
Be part of The Liveability Challenge, submit your solution today.
Learn More
Sign up for the latest innovation updates
Customise your preferences to receive updates in industries you're interested in.