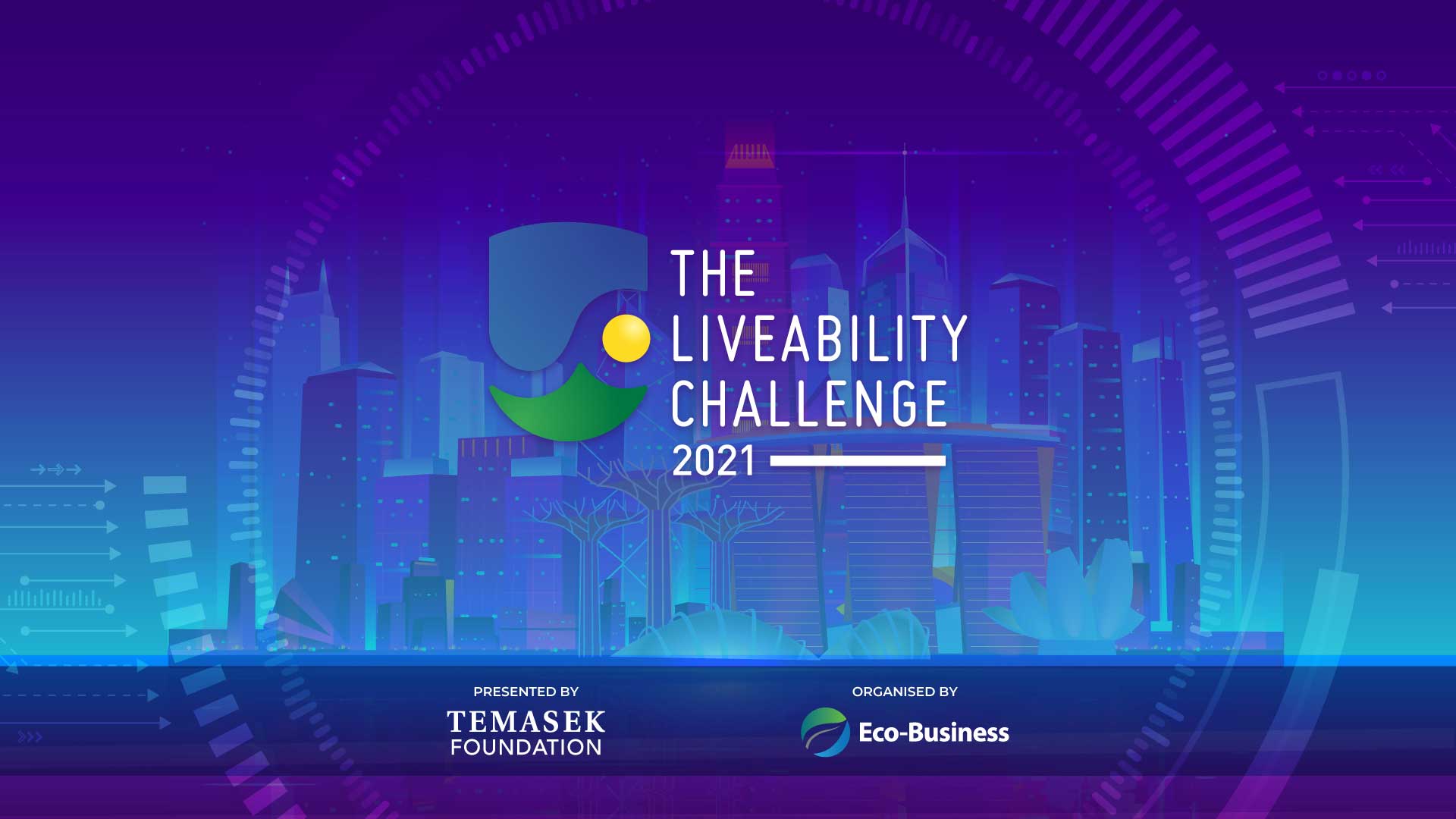 | | |
| --- | --- |
| Challenge Owner(s) | Temasek Foundation |
| Organiser(s) | Temasek Foundation, Eco-Business |
| Industry Type(s) | Circular Economy & Sustainability, Sustainable Energy, Urban Solutions |
| Opportunities and Support | Grand winner will secure up to S$1million in project development funding to pilot their solution from Temasek Foundation |
| Application Start Date | 15 January 2021 |
| Application End Date | 22 April 2021 |
| Website | Click here to learn more |
About Challenge
The Liveability Challengeis a global platform that hunts for and accelerates the launch of innovative solutions to liveability and sustainability challenges of the 21st century in cities in the tropics. The Challenge is presented by Temasek Foundation and organised by Eco-Business.
From 15 January to 15 April 2021, The Liveability Challenge is accepting proposals with the most disruptive, game-changing ideas that will help cities accelerate decarbonisation and address its resource challenges. Finalists will compete for the grand prize of up to S$1 million in project development funding to pilot their solution, and other exclusive opportunities including a minimum investment of S$50,000 by Planet Rise and a S$50,000 investment by Amasia.
Re-imagining Resources
| | |
| --- | --- |
| Challenge Owner(s) | Temasek Foundation, Eco-Business |
| Industry Types(s) | Electronics, Energy & Chemicals, Environmental Services, Food Manufacturing, Food Services |
---
Eco-Business, Temasek Foundation
With rising constraints on land, energy and water, urban centres urgently need to find pathways to achieve a circular economy where waste is eliminated and business models are regenerative by design. We are looking for breakthrough technologies or materials that will reinvent waste streams into valuable resources or replace or reduce packaging in key sectors such as food and e-commerce. These solutions should significantly reduce the input of resources required in the production process and help achieve responsible consumption and production at scale.
What We Are Looking For
Submitted solutions:
Replace/reduce plastic, or virgin/hard-to-recycle paper packaging; utilise/convert food waste, plastic waste, or e-waste into valuable products/materials
Drastically reduce land, water, energy and major resources required for the production of goods and services, such as food and materials
Keep reclaimed products in circulation at their highest value possible
Exceed the performance of conventional materials and be cost-competitive
Be closed-loop, commercially viable and scalable
Apply Here
Decarbonisation
| | |
| --- | --- |
| Challenge Owner(s) | Temasek Foundation, Eco-Business |
| Industry Types(s) | Air Transport, Energy & Chemicals, Food Manufacturing, Land Transport, Sea Transport |
---
Eco-Business, Temasek Foundation
With the global race for net zero cities underway, we are looking for the most innovative ideas that will dramatically reduce greenhouse gas emissions in our atmosphere. Key sectors with huge potential for decarbonisation solutions include energy generation, urban infrastructure, and transport and logistics systems. We are also seeking revolutionary carbon capture, utilisation and storage solutions to remove carbon emissions from the atmosphere at scale.
What We Are Looking For
Submitted solutions should:
Significantly reduce the carbon emissions produced by industries; or effectively capture, and convert carbon emissions into useful products such as food protein, building materials, reclamation sand or synthetic fuels
Be either technology-based solutions (e.g. physical, chemical) or nature-based solutions (e.g. biological capture and sequestration)
Integrate into existing infrastructures or systems
Be carbon negative in the overall lifecycle and have zero/minimal externalities
Be commercially viable and scalable
Apply Here

Sign up for the latest innovation updates

Customise your preferences to receive updates in industries you're interested in.

;