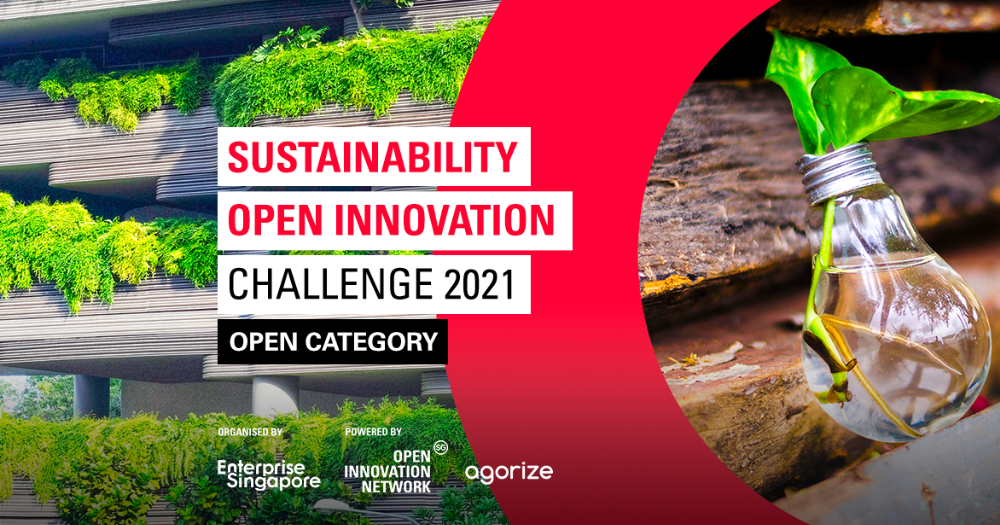 | | |
| --- | --- |
| Challenge Owner(s) | Enterprise Singapore |
| Organiser(s) | Enterprise Singapore |
| Industry Type(s) | Circular Economy & Sustainability, Infrastructure, Real Estate, Sustainable Energy, Urban Solutions |
| Opportunities and Support | Selected proposals stand to receive funding support for solution development from Enterprise Singapore! |
| Application Start Date | 15 December 2021 |
| Application End Date | 28 February 2022 |
| Website | Click here to learn more |
About Challenge
[Open for Singapore startups and SMEs only]
This year, we are piloting an Open Category where we invite proposals that do not address any of the challenge statements posted by the challenge owners in SOIC 2021 – Round 2 but are innovative and impactful that you want the organisers to consider. We are accepting all proposals that fall within either of the following sector-based or technology-based categories. Proposals should address a sizeable market demand and come along with your potential reference customer(s)/pilot partner(s).
Sector-based Categories
Built Environment
Carbon Capture Utilisation, and Storage (CCUS)
Low Carbon Hydrogen
Energy Efficiency
Technology-based Categories
Learn More
Model-Predictive Control (MPC) for Smart and Optimised Control of Processes/Systems
| | |
| --- | --- |
| Challenge Owner(s) | Enterprise Singapore |
| Industry Types(s) | Sustainable Energy |
---
Enterprise Singapore

Model-Predictive Control (MPC) for Smart and Optimised Control of Processes/Systems
What We Are Looking For

Technology Overview:
Conventional feedback-control (or reactive control) schemes used, for example, in current building automation and control (BAC) systems limit buildings from achieving high levels of energy efficiency and occupant well-being. The research team had developed a model predictive control (MPC) solution that overcomes such limitations by employing a building model to perform optimal, predictive and coordinated control of multiple building service systems including air-conditioning & mechanical ventilation (ACMV), dimmable lighting, dynamic shading, etc. The technology was demonstrated to achieve 20 – 60% of energy savings while greatly improving occupants' thermal and visual comfort. This could largely disrupt the BAC market to shift to a much more intelligent level with predictive (instead of reactive) control and real-time optimisation.
Technology Specifications:
Conventional BAC systems that are based on reactive control strategy (such as on/off control or proportional–integral–derivative (PID) control) lack the level of intelligence to coordinate the control of complex building systems to achieve multiple targets (energy efficiency, occupant well-being). Due to the complexity of most modern buildings and their ACMV systems, reactive control can practically never achieve the desired control target based on the past measurement information. In addition, reactive control is typical for single-input systems (e.g., room temperature as a single input for ACMV system) but rarely capable of coordinating multiple systems. These limitations present challenges to conventional reactive-based BAC systems in achieving high levels of energy efficiency and human comfort. A MPC system predicts the future response (e.g., room air temperature, RH, thermal comfort) of a building by exploiting a virtual model of the building as well as disturbance information (e.g., outdoor weather, indoor occupancy density, internal heat loads).
MPC can handle multi-input multi-output (MIMO) systems that have interactions between their inputs and outputs. MPC can simultaneously control all the outputs while considering input-output interactions. MPC can also handle constraints (e.g. desired motor speed range to operate at peak performance) and optimise in real time.
Potential Application:
The MPC technology can be applied to various types of buildings with centralised building management systems (BMS). In addition, it can be used to optimise distributed renewable and storage utilisation, demand control (dynamic energy/carbon pricing) and energy community management provided by fully digitalised BAC with prediction capabilities.
MPC can also be used in other applications such as in irrigation, waste management, water treatment and other processes to optimise performance and achieve maximum efficiency.
Learn More
Seafood Waste Valorisation
| | |
| --- | --- |
| Challenge Owner(s) | Enterprise Singapore |
---
Enterprise Singapore

Seafood Waste Valorisation
What We Are Looking For


Technology Overview:
Skins, scales, fins and bones derived from seafood waste are good alternatives to traditional off cuts from the meat industry to produce collagen and gelatine. Seafood bone and scales are promising alternatives to animal minerals as they produce biocompatible materials such as hydroxyapatite. This platform technology covers the development of cost-effective, scalable processes to extract and chemically modify strategic seafood waste (e.g., farmed American bullfrog skin, salmon, snake head, etc) such as collagen and hydroxyapatite into various high value products. As the platform technology is amendable, there is potential to extend the collagen extraction, characterisation, and bioconversion capabilities to cover other sources of collagen containing seafood wastes such as fish skin, innards, etc.
Technology Specifications:
Despite being a rich source of collagen, the current extraction process and the technological utility of American bullfrog collagen is scant. Using our patented mechano-chemical process, we were able to extract up to 70% of type 1 collagen from the bullfrog skin discards, corresponding to an extraction efficiency of roughly 90%. The high extraction yield makes this "waste-to-resource" biomaterial commercially viable. Additionally, the process is straightforward, cost-effective, scalable and the extraction time could be shortened by 40% compared to traditional acid solubilisation methods. The recovered collagen was found to be highly soluble and stable in its tropocollagen-like state in water, thereby enabling the easy tailoring of its chemistries and properties to cater for specific applications.
Currently, our platform technologies are protected by three patents, specifically in the space of (i) extraction and use of bullfrog collagen and fish scale hydroxyapatite for bone grafting; (ii) bullfrog collagen patch for wound healing application; (iii) valorisation of bullfrog collagen for bioplastic production. PCT and US application for the inventions are in progress. Additionally, our recent efforts have shown that we can process the collagen into 3D printable ink and bioplastics.
Potential Applications:
Seafood collagen can be utilised as bioactive additives for biomedical, cosmeceutical, nutraceutical, skin-care applications, amongst others.
When processed as gels, sponges, flakes, or thin films, it can serve as an effective wound dressing material or generic scaffold for tissue engineering.
When combined with hydroxyapatite from calcium phosphate rich side-streams such as fish scale / fish bone, it can function as grafting material for bone repair and / or periodontal tissue regeneration (dental products).
Photo-curable hydrogels for 3D printing/ advanced cell culture applications
Seafood collagen can also be processed as biodegradable bioplastics for coating and packaging applications.
Additional Resources:
Sustainable aquaculture side-streams derived hybrid biocomposite for bone tissue engineering, Materials Science and Engineering: C (2021) 126, 112104
Straits Times: Online article | In-Print
Today Online: Online article
The commercial feasibility of our platform can be inferred by the product yield. From a SINGLE piece of bullfrog skin, we can produce 40-50 pieces of functional wound patch measuring 0.3mm x 5cm x 5cm OR bioplastics of dimension 2m x 2m.
Learn More
Eligibility criteria to apply to Open Category
Please ensure that you meet all the criteria before submitting your application for the Open Category. Incomplete information provided will be rejected.
I am a local SME/startup (with at least 30% ownership held by a Singapore citizen/PR, and have annual sales turnover of under $100m or employ less than 200 workers)
My proposed solution/product requires further developmental work and is presently not a market-ready product
For your proposed scope of work,

Product development to be completed and market-ready within 2 years, and
I will carry out my core development work in Singapore, and

I have not received any government funding for this proposed phase of work. Innovators are to declare if they have received/are currently applying for other sources of government funding

My solution to be developed is innovative and impactful

Please elaborate on how your solution is much better than existing solutions. To include this within Section C: Technical feasibility of solution and novelty in the detailed project proposal
Please also elaborate on how attractive your addressable market by quantifying the ROI and your projected annual sales in S$. To include this within Section C: Business feasibility of solution in the detailed project proposal

Market demand validation. Please indicate the name(s) of your potential reference customer(s)/pilot partner(s) that have indicated strong interest and support in your product idea. Before final selection, we will require a Letter of Intent from your potential reference customer(s)/pilot partner(s) and we will contact them to determine their level of commitment to your project
My submission is not a duplicate entry. I have not submitted the same proposal to other challenge statements under this SOIC 2021 – Round 2 call. You are not allowed to list SOIC 2021 – Round 2 challenge owners as your potential reference customer(s)/pilot partner(s) unless it is for a different challenge statement. If your proposal can address existing SOIC 2021 – Round 2's challenge statements, please submit to the respective statements directly
Sign up for the latest innovation updates

Customise your preferences to receive updates in industries you're interested in.

;