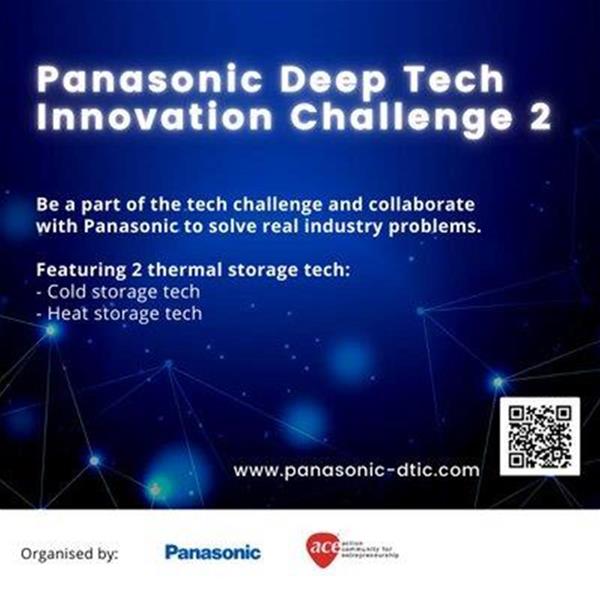 | | |
| --- | --- |
| Challenge Owner(s) | Panasonic R&D Center Singapore |
| Organiser(s) | Panasonic R&D Center Singapore, Action Community for Entrepreneurship (ACE) |
| Industry Type(s) | Logistics |
| Opportunities and Support | Up to $6,000 in cash prizes for Top 3 winners, opportunity to license Panasonic's IP and co-innovate on solutions |
| Application Start Date | 8 February 2021 |
| Application End Date | 26 March 2021 |
| Website | Click here to learn more |
About Challenge
Panasonic Deep Tech Innovation Challenge 2 aims to identify high potential startups with emerging technologies to collaborate and co-innovate with Panasonic's heating/cooling thermal storage capabilities in various applications such as advancing product functionality, transportation & storage, pharmaceutical products and enabling human relief.
Panasonic will be featuring two different thermal storage technologies in this challenge:
Cold storage technology
Heat storage technology
Learn more
Transportation & Storage
| | |
| --- | --- |
| Challenge Owner(s) | Panasonic R&D Center Singapore |
| Industry Types(s) | Environmental Services, Food Manufacturing, Food Services, Logistics |
---
Panasonic
Southeast Asia is a tropical region with warm temperatures and high humidity. Storing and transporting food, products and other materials may require a specific range of temperatures to keep the goods intact.
What We Are Looking For
Panasonic would like to solve wastage from storage and transport complications - where Panasonic will provide the heat and cold storage technology, IP and resources to create an environment suitable for prolonged periods of time.
Learn More
Product Functionality & Enhancement
| | |
| --- | --- |
| Challenge Owner(s) | Panasonic R&D Center Singapore |
| Industry Types(s) | Environmental Services, Food Manufacturing, Food Services, Healthcare & Biomedical, Logistics |
---
Panasonic

Certain machines, systems, and storage items are best operated within a range of temperatures. Operating in suboptimal temperatures may result in decreasing activities and even damage. To tackle this problem, the industry has created cooling systems that require large amounts of energy and are generally costly. Additionally, there can be losses in the event of power outages or failures.

What We Are Looking For

Panasonic wants to utilise cold storage technology to solve such energy consumption and emergency problems. Panasonic's cold storage technology can reduce energy consumption and create an environment that cools machines and equipment promptly and for a long time in an emergency.

Sign up for the latest innovation updates

Customise your preferences to receive updates in industries you're interested in.

;