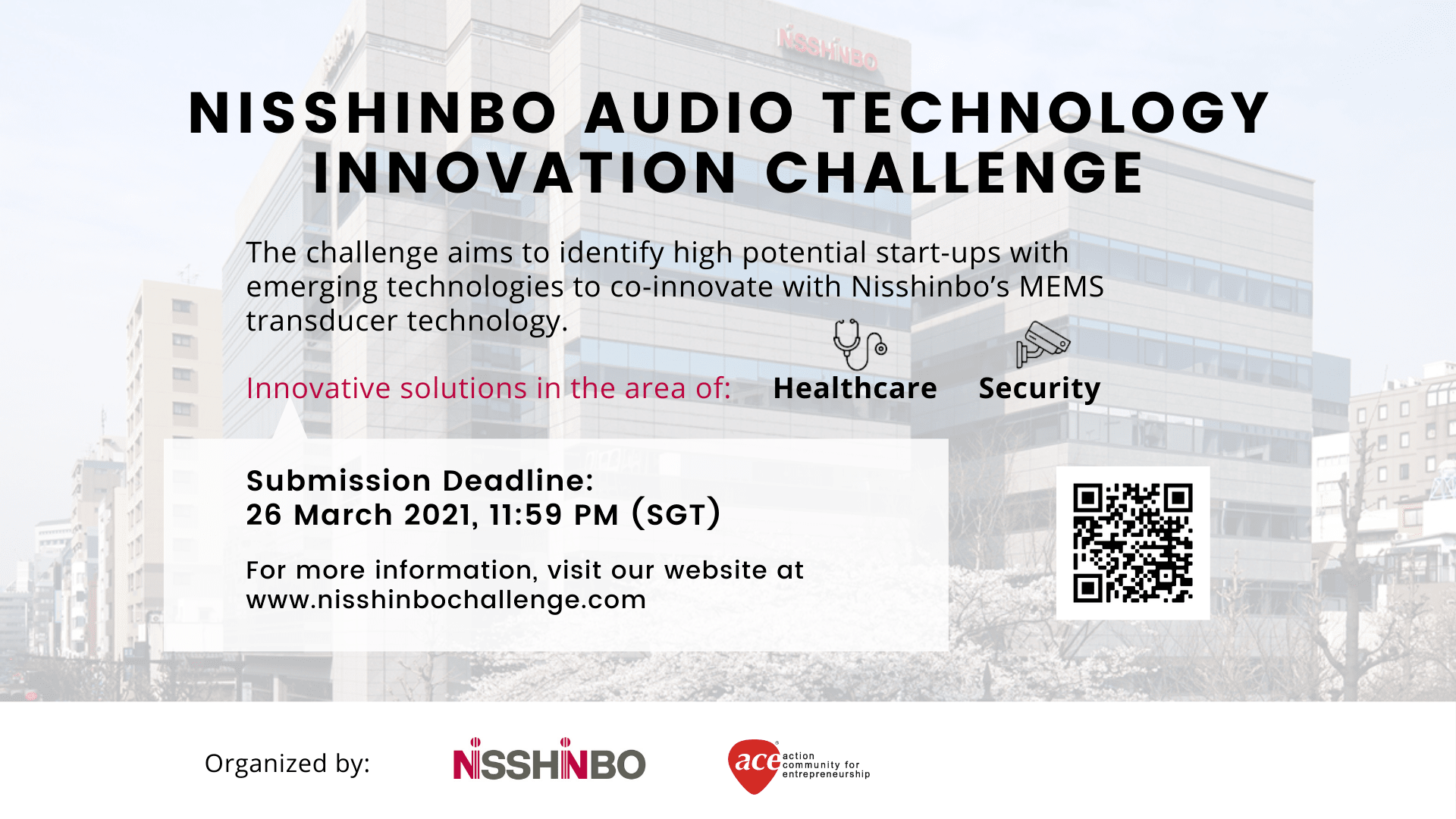 | | |
| --- | --- |
| Challenge Owner(s) | Nisshinbo Group Japan, New Japan Radio Co Ltd |
| Organiser(s) | Nisshinbo Group Japan, Action Community for Entrepreneurship (ACE) |
| Industry Type(s) | Healthcare & Biomedical |
| Opportunities and Support | Up to $6,000 in prize money, opportunities to jointly implement POC and work with Nisshinbo's engineering R&D team |
| Application Start Date | 22 February 2021 |
| Application End Date | 26 March 2021 |
| Website | Click here to learn more |
About Challenge
The Nisshinbo Audio Technology Innovation Challenge, jointly organized by Nisshinbo Group Japan and ACE, aims to identify high potential startups with emerging technologies to co-innovate with Nisshinbo's MEMS microphone technology in the areas of healthcare and security.

To find out more about the challenge, register for our upcoming webinar briefing on 12 March 2021, 2pm-3pm (SGT).
Nisshinbo Audio Technology Innovation Challenge (Security)
| | |
| --- | --- |
| Challenge Owner(s) | Nisshinbo Group Japan, New Japan Radio Co Ltd |
---
Nisshinbo
How can we bring about better well-being and security through sound detection?
What We Are Looking For
We usually hear every sound to judge the situation. Outdoors, the sounds of cars, buildings, nature, indoors, the sounds of people talking, alarms, and the sounds of machines. In addition to the sound information from the MEMS microphone, it may be used as more accurate and useful information by combining it with other sensors such as GPS and cameras. We believe that people's lives will be safer and more comfortable if sound information can be easily obtained.
Nisshinbo Audio Technology Innovation Challenge (Healthcare)
| | |
| --- | --- |
| Challenge Owner(s) | New Japan Radio Co Ltd, Nisshinbo Group Japan |
| Industry Types(s) | Healthcare & Biomedical |
---
Nisshinbo

How can we ensure better healthcare through sound detection?

What We Are Looking For

The COVID-19 pandemic has changed the world. People used to be able to move freely, but now it is not possible with highly infectious viruses. This has significantly changed people's daily lives as well as from a business perspective. In terms of medical healthcare, "telemedicine", which was not allowed in Japan until the pandemic, has been legally permitted by the Japanese government, and efforts to utilize telemedicine will accelerate nationwide in the future.

Nisshinbo believes that telemedicine can be enhanced by collecting the sound that a person emits from the body with a MEMS microphone and processing the signal so that it can be transmitted.

Nisshinbo Audio Technology Innovation Challenge
Friday,
12 March 2021
2.00pm - 3.00pm (GMT +8)

Sign up for the latest innovation updates

Customise your preferences to receive updates in industries you're interested in.

;