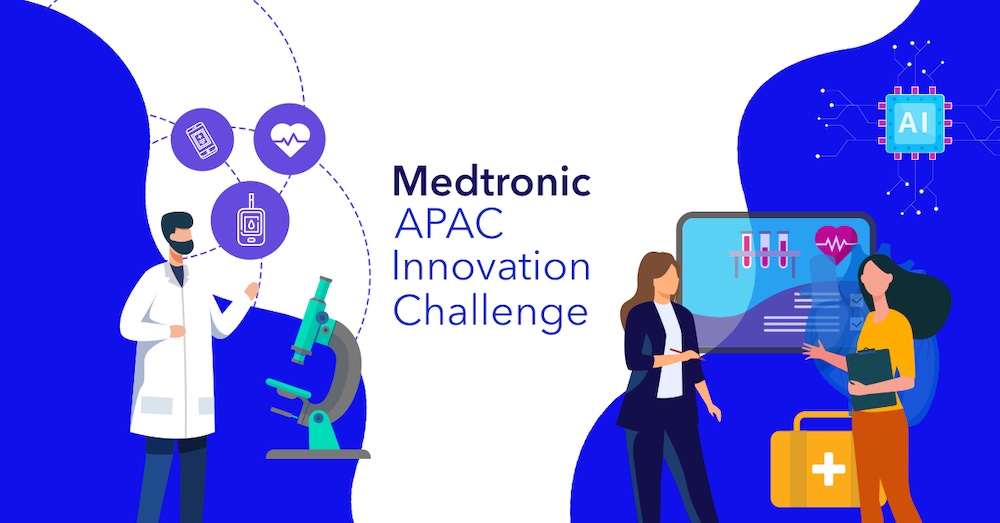 | | |
| --- | --- |
| Challenge Owner(s) | Medtronic |
| Organiser(s) | Medtronic |
| Industry Type(s) | Digital/ICT, Electronics, Healthcare & Biomedical, Precision Engineering |
| Opportunities and Support | Access USD$200k for a commercial pilot and a 5-week exclusive mentorship from Medtronic |
| Application Start Date | 14 October 2021 |
| Application End Date | 26 November 2021 |
| Website | Click here to learn more |
About Challenge
With this Challenge, Medtronic is now looking for innovative solutions that will drive the advancement of Healthcare Technologies in APAC. This is the perfect opportunity for startups to #GoBig with Medtronic and expand their access to new markets.
Startups can articipate in one or more of the following categories:
1. Life Transforming Technologies
How can we accelerate novel healthcare innovation and bring them to patients sooner?
2. Better Outcomes for All
How can we provide more equitable and accessible healthcare solutions tailored for Emerging Markets?
3. Experiences that put People First
How can we leverage new digital innovations to simplify healthcare for patients, caregivers, and healthcare professionals?
4. Insight Driven Care
How might we drive personalised care in the future through data and design?
Top 5 Winners can access:
Up to USD 200,00 per winner for a potential commercial pilot by/in collaboration with Medtronic
Top 10 Finalists can access:
Five-week exclusive mentorship by Medtronic to refine the business cases to prep for the Final Pitch and hear more from Medtronic leaders on key healthcare topics
Virtual booth to showcase products and solutions to the wider audience during the Medtronic APAC Innovation Conference to be held in parallel with Final Pitch in March 2022
Learn More
Sign up for the latest innovation updates
Customise your preferences to receive updates in industries you're interested in.