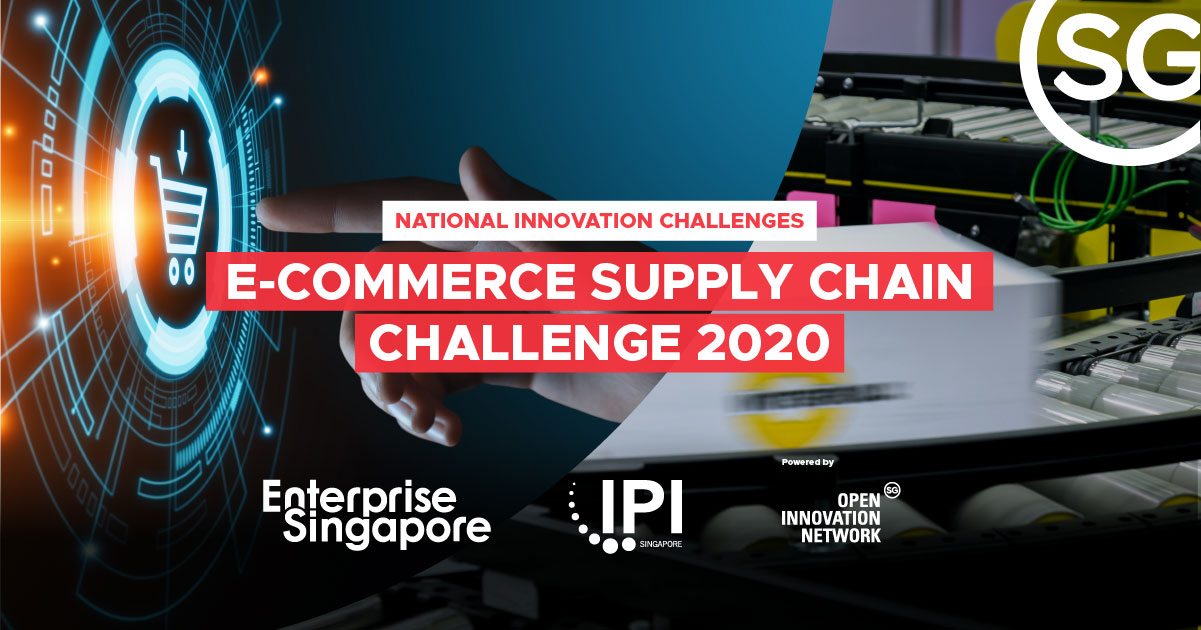 | | |
| --- | --- |
| Challenge Owner(s) | Ninja Van, SATS Ltd, Singapore Post Limited |
| Organiser(s) | IPI Singapore, Enterprise Singapore |
| Industry Type(s) | Logistics, National Innovation Challenges, Retail |
| Opportunities and Support | Up to S$2,000,000 in co-funding grant support |
| Application Start Date | 2 October 2020 |
| Application End Date | 27 November 2020 |
| Website | Click here to learn more |
About Challenge
E-commerce in Singapore is flourishing and is expected to grow to US$27 billion by 2025 (e-Conomy SEA 2019). The onset of COVID-19 has further accelerated this growth. With the increase in e-commerce transactions and high parcel delivery volume, this has highlighted the importance and need to optimise productivity and improve overall cost for e-commerce supply chain in a sustainable way.
Featuring industry partners such as Ninja Van, SATS and Singapore Post, the ESCC2020 is part of the Singapore National Innovation Challenges and aims to develop industry-led solutions through innovative partnerships between startups or SMEs and large organisations. Participants will work on real-life challenge statements and collaborate with e-commerce supply chain players to optimise operations and catalyse growth in a sustainable manner.
Each challenge statement may be allocated up to S$2,000,000 in co-funding grant support for eligible enterprises from prototype to deployment to adoption.
Enterprise Singapore, together with IPI Singapore, invites you to showcase your innovative solutions to solve these industry-wide challenges as part of ESCC2020.
Developing Durable And Eco-friendly E-commerce Packaging To Reduce Revenue Leakage From Damages and Associated Costs
| | |
| --- | --- |
| Challenge Owner(s) | Ninja Van |
| Industry Types(s) | Environmental Services, Logistics |
---
Ninja Van
How might we develop durable and eco-friendly E-commerce packaging to reduce revenue leakages from damages and associated costs?
What We Are Looking For
Price competitive, robust and eco-friendly packaging solutions catering to different types of merchandise
Faster and easier for shippers to pack their merchandise
Substantially reduce damages during delivery which minimise losses due to product write-off
Additional Information
Ninja Van can support the innovation in 3 main areas:
To provide input and expertise on required packaging standards
To connect and source for buy-in from shippers/e-commerce platforms
To support the testing phase of the proposed solution, based on packaging standards
Briefing Session
Register Here
Ninja Van (13 October 2020)
4.30pm – 5.30pm (GMT +8)

Apply Here
Enabling Fast and Accurate B2C E-commerce Cross-Border Trade Compliance
| | |
| --- | --- |
| Challenge Owner(s) | SATS Ltd |
| Industry Types(s) | Digital/ICT, Retail |
---
SATS Ltd
How can we enable fast and accurate B2C E-commerce Cross-Border Trade Compliance for SME E-tailers looking to sell overseas?
What We Are Looking For
Outcome 1: Automate the computation of applicable real-time customs duties and taxes accurately, and make the data available and accessible by 3PL through their IT platforms. The aim of such a system is to minimise the differences in the amount of customs duties and taxes quoted to buyers and the actual amount tax required to be paid. In this way, the buyers will know at the point of buying the correct amount of customs duties and taxes required, and e-retailers will not have to bear the risk of paying the difference due to their estimation errors.

Outcome 2: Integrate the proposed solution onto SATS' eFulfilment platform during the pilot phase. The proposed solution should be customisable and could be offered as a SaaS solution to other 3PL providers during the adoption phase.

Outcome 3: Embed artificial intelligence to check for errors in declaration information from the shipper, assign HS codes automatically, and evolve easily and quickly to any significant trade compliance changes (not limited only to customs duties and taxes, but import restrictions on quantity and type of goods as well). In addition, upon receiving feedback on possible errors on the output from the proposed solution, there should be means to improve accuracy subsequently.
Briefing Session
Register Here
SATS (14 October 2020)
4.30pm – 5.30pm (GMT +8)

Apply Here
Establishing Packaging Designs To Increase Processing Efficiency Of E-commerce Parcels And Packets
---
Singapore Post

How can we develop packaging designs to increase processing efficiency of eCommerce parcels and packets?

What We Are Looking For

Solutions that would be considered

Potential solutions can include packaging sizes or designs that enable more efficient handling of e-commerce items, or a method that can convert non-machinable items to become machinable. The solution could address the package design itself, or include an additional pre-processing stage that alleviates the need to segregate non-machinable items, whilst addressing other issues such as packaging quality and sustainability where applicable.

Solutions that would not be considered

At this stage we would not consider solutions that would require integration with the current automated sortation system due to cost of implementation.

Briefing Session

Register Here
Singapore Post (15 October 2020)
4.30pm – 5.30pm (GMT +8)

Apply Here

Sign up for the latest innovation updates

Customise your preferences to receive updates in industries you're interested in.

;