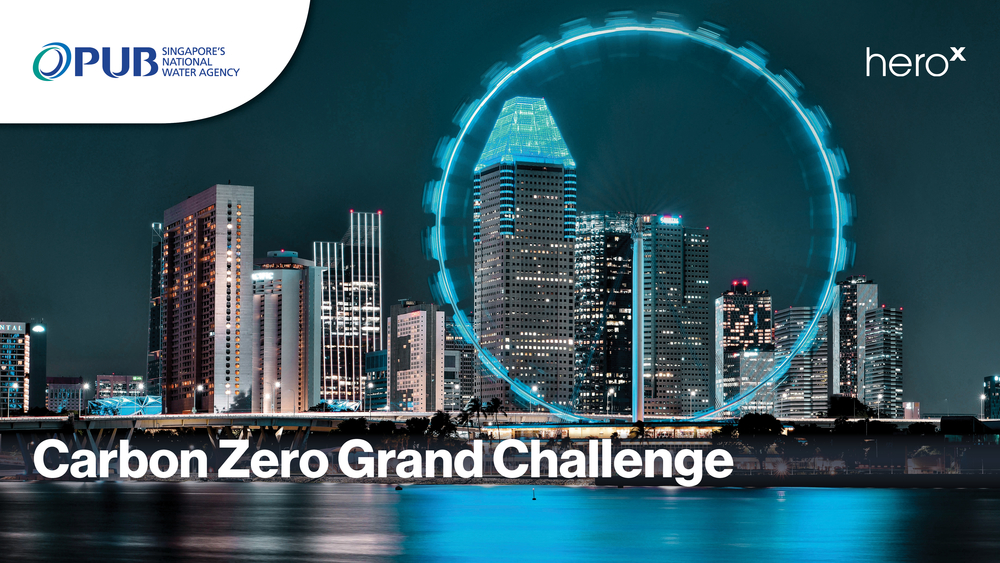 | | |
| --- | --- |
| Challenge Owner(s) | National Water Agency (PUB) |
| Organiser(s) | National Water Agency (PUB) |
| Industry Type(s) | Circular Economy & Sustainability, Energy & Chemicals, Environmental Services, Sustainable Energy, Urban Solutions |
| Opportunities and Support | Opportunities to receive funding to co-create solutions with PUB that can be integrated with its operations |
| Application Start Date | 19 October 2021 |
| Application End Date | 24 February 2022 |
| Website | Click here to learn more |
About Challenge
The Carbon Zero Grand Challenge seeks to incentivize innovative solutions that can help PUB achieve net-zero emissions by mid-century and scale to water facilities around the globe. PUB is seeking carbon capture, utilization, removal, and other solutions at any technology readiness level that can be integrated with its operations and reach commercial scale within a decade or sooner.
The grand challenge will have two phases of competition and award a total prize pool of S$6.5 million (US$4.8 million) over approximately 45 months. In the Proposal Phase, solvers will submit a detailed proposal addressing net carbon abated, cost, and other critical aspects of their solution. Up to six will be awarded S$250,000 each to develop a Proof of Concept. In the Proof of Concept Phase, solvers will develop a desktop simulation and/or lab-scale study and a detailed design for a pilot project. Up to two will be awarded S$2.5 million each to demonstrate a ~1 kiloton-scale version of their solution at a PUB facility in Singapore.
Learn More
Carbon Zero Grand Challenge
| | |
| --- | --- |
| Challenge Owner(s) | National Water Agency (PUB) |
| Industry Types(s) | Circular Economy & Sustainability, Energy & Chemicals, Environmental Services, Sustainable Energy, Urban Solutions |
---
PUB, Singapore's National Water Agency


As an island city-state, Singapore's geography inherently limits its access to natural resources. For this reason, Singapore has always been an innovator and a leader in identifying clean, efficient, and cost-effective solutions for energy, water, and the environment.
PUB, Singapore's national water agency, manages the nation's water supply, water catchment, and used water in an integrated way. In 2020, PUB also took on the responsibility of protecting Singapore's coastline from sea-level rise as the national coastal protection agency.
The global water sector contributes approximately 5% of greenhouse gas (GHG) emissions but has not yet received significant attention in climate debates. Although Singapore's local water sector's emissions represent less than 1.5% of the city-state's total emissions, in today's climate, every contribution counts.
The Sixth Assessment Report by the Intergovernmental Panel on Climate Change (IPCC) that was published in August this year, reinforced the reality that urgent and aggressive action is needed to keep global temperature rise below 2°C, as committed to in the Paris Agreement. Every sector must play its role, including the water sector. That is why PUB has set a goal to achieve net zero carbon emissions by mid-century.
The Carbon Zero Grand Challenge seeks to focus the attention of innovators, investors, and thought leaders on water sector emissions in order to accelerate the deployment of innovative solutions to address Singapore's net zero carbon emission goals and scale to water facilities around the globe.
What We Are Looking For
This grand challenge seeks solutions that 1) directly address emissions associated with PUB's water facilities and 2) have the potential to be deployed at commercial scale within a decade or sooner. Such solutions may include:
Carbon capture, utilization, and storage (CCUS) technologies that can be integrated with PUB's water treatment or desalination operations
Approaches for addressing greenhouse gas (GHG) emissions associated with PUB's facilities, while still maintaining PUB's ambition to achieve energy self-sufficiency through the use of biogas/biomethane generated from anaerobic digestion
Approaches for carbon dioxide removal (CDR), that remove CO2 from the atmosphere that could be integrated with PUB operations
Approaches for carbon dioxide removal (CDR) that remove CO2 from seawater that could be integrated with PUB operations
Any other approaches that directly address emissions associated with PUB's water facilities and are not out of scope, as described below
Solutions that do not directly reduce or remove GHG emissions associated with PUB's water facilities are out of scope for this grand challenge. These include:
Approaches to replace grid power used by PUB's facilities with commercially available renewable power generation sources, such as rooftop solar PV
Approaches involving tree planting, soil sequestration, or similar offset schemes
Approaches addressing any Scope 1 emissions associated with vehicles or travel
Approaches addressing any Scope 1 or Scope 2 emissions associated with building heating or cooling systems
Sign up for the latest innovation updates

Customise your preferences to receive updates in industries you're interested in.

;