16 Jul 2021
Spicing up Singapore's snack industry with open innovation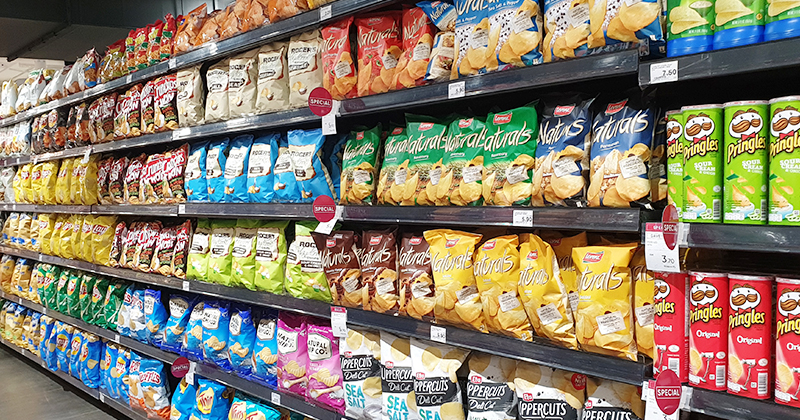 Open innovation has been a game changer for businesses – small and large – globally. By tapping the know-how of partners in the value chain, companies are discovering it pays to collaborate externally to improve business processes, develop new products and bring them to market quicker. For the food industry in Singapore, open innovation has helped some traditional businesses transform and develop new products from scratch.
Uncle Saba's, the creator of ready-to-eat poppadoms, is a case in point. Having run a traditional food distributing business for several years, Mr Saba, also known as Uncle Saba, was inspired with the idea of making poppadom snacks, after noticing that buyers of their raw poppadoms were reselling them in small bags at malls and mom-and-pop stores. Uncle Saba discussed the idea with his son and now co-founder, Mr Sreenivas, and felt that the concept of a Poppadom snack wouldn't be unfamiliar to Singaporean consumers.
Scaling through open innovation
As part of their foray into the snacks business, the company set up a manufacturing plant in Malaysia in 2013. Two years later, they launched Uncle Saba's poppadoms in Singapore. The ubiquitous Indian crisp, which accompanies traditional meals such as briyani and more, was transformed into a ready-to-eat snack.
"We did not have a background in snack manufacturing," Mr Sreenivas said. "So, we had to rely on the strength of those in the ecosystem who were specialists in various aspects of production such as seasoning and packaging, to ensure we could have a sustainable business."
Made with lentils and gluten free, it appeals to consumers who are after healthy snacks. The poppadoms come in a motley of flavours such as Singapore Chilli Crab, Korean BBQ, Hot & Spicy Mala and Cheese.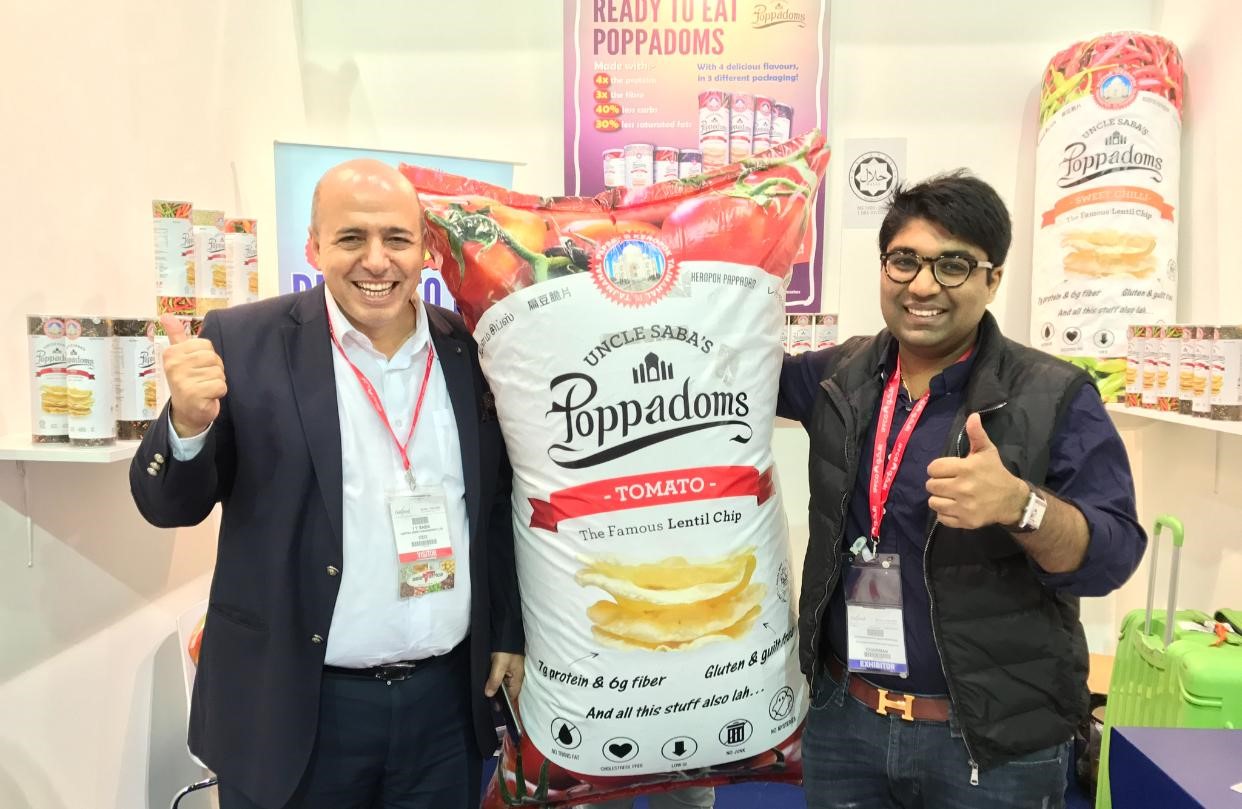 Uncle Saba's poppadoms can be found in supermarkets islandwide and in 19 countries globally. Source: Sreenivas R.
Today, Uncle Saba's poppadoms can be found in supermarkets islandwide, online and in 19 countries globally. Having experienced open innovation, Mr Sreenivas is convinced that it is the way to scale.

"Our approach has changed in the past few years," he said. "Rather than doing everything ourselves, we are open to focusing on things we are strongest at like product development and branding, leaving other aspects of the process to others."
Taking baby steps
With Singapore's open innovation initiatives, food businesses are finding new platforms for innovation, and opportunities to develop and scale.
A finalist of snack innovation competition Snack Genius 2019, Hogula found it easier to establish partnerships in the F&B supply chain and understand the intricacies of the food manufacturing business after the event. Through working with partners, their products are now available in several shops, such as Food Culture and Shopee. Hogula's co-founder Ms. Chia Lay Boon previously owned a childcare business and had an earlier career as a cabin crew. Hogula makes brittle with Asian ingredients such as gula melaka and shichimi, a Japanese spice mixture made up of seven ingredients.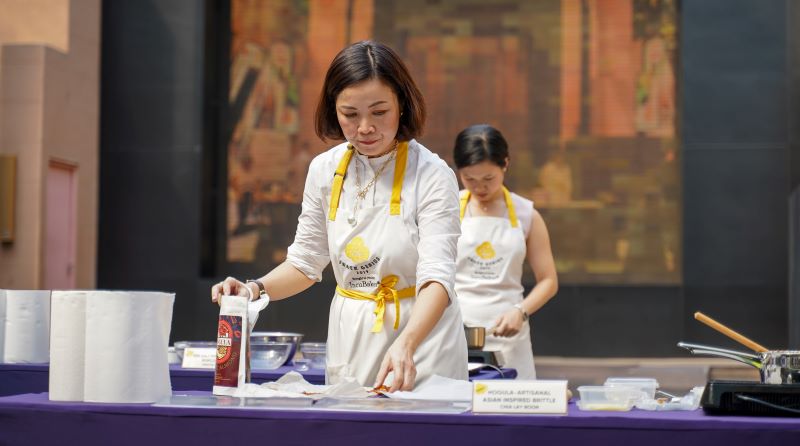 A finalist of snack innovation competition Snack Genius 2019, Ms. Chia Lay Boon found it easier to establish partnerships in the F&B supply chain. Source: Enterprise Singapore
A self-professed lover of sweets, she was munching on See's candies (a famous nut brittle from Los Angeles) when it struck her that she could make some herself, but with local ingredients. Eventually, Ms Chia founded the company to fill a gap in the market for brittle made with Asian ingredients.
Since launching the business in 2019, Hogula has learnt to improve the quality of its products, such as reducing the level of stickiness. The team has also learnt ways to ensure that products have a shelf life of at least six months. Going forward, the business plans to create snacks in smaller packaging. These products will first launch in Singapore, then in cities in the Asia Pacific such as Hong Kong, Sydney, Melbourne and Shanghai.
"We're constantly looking for ways to be better," Ms Chia says. "This means coming up with new products, new channels and being price competitive and expand our product line. Simply put, we must ride the wave of change and evolve."
Uncovering new ideas through collaboration
Snacks is big business. In 2019, global revenue of the snack food segment amounted to some US$160 billion. The sector is expected to grow by 4.5% annually. A recent Straits Times article also reported that even during the pandemic, most categories of snacks in Singapore are either doing better than last year or staying the same. Small wonder that the city-state is keen to encourage food entrepreneurs to innovate.
Asia's Great Snack Challenge 2021 will do just that. Together with household brands like Mr. Bean, Polar Puffs & Cakes, Haidilao Hot Pot, Tong Garden, Uncle Saba's is taking part in the Enterprise Singapore-led challenge.
The objective is to encourage startups and individuals to create innovative snacks and commercialise them. Food companies like Uncle Saba's and other participating partners will provide support to fledging entrepreneurs to help them take their products to market. Finalists will be guided on various technical and business aspects of commercialising a snack, including branding and marketing. Registration for the event has opened and ends on 26 July.
For Uncle Saba's, Asia's Great Snack Challenge is an opportunity for the company to contribute to Singapore's food ecosystem, so that all food entrepreneurs lean on one another to grow.
"The open innovation approach really uplifts the entire food ecosystem in Singapore, said Mr Sreenivas. "For any industry to succeed, you need a stream of innovation and Asia's Great Snack Challenge provides a great platform. "Rather than innovating from our own individual capabilities, this approach boosts the entire ecosystem in Singapore, which in turn benefits everyone."
Are you a food entrepreneur looking to commercialise a new snack? Sign up for Asia's Great Snack Challenge now! Applications close on 26 July.
Sign up for the latest innovation updates
Customise your preferences to receive updates in industries you're interested in.