15 Dec 2021
Open Innovation keeps global trade on the move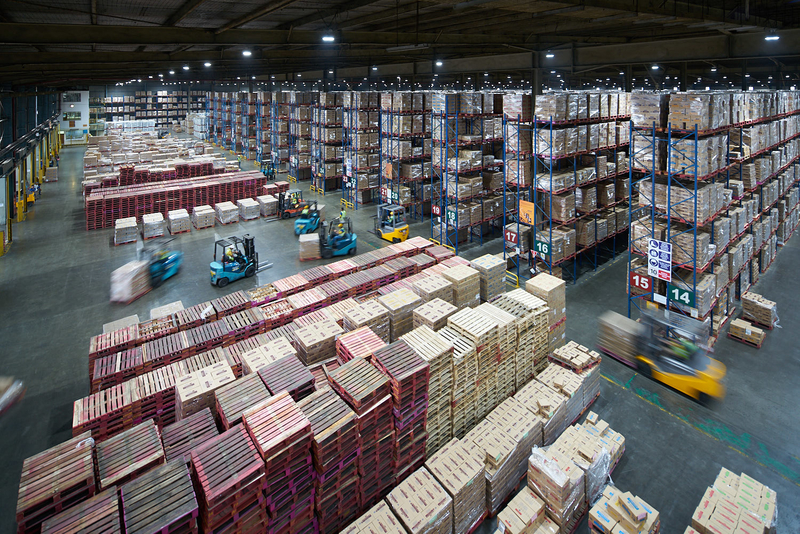 Built to house bulk inventory, YCH Group's warehouse space utilisation will be further enhanced with Fieldbox.ai's Artificial Intelligence (AI) solutions. Source: YCH Group
Logistics companies around the world are experiencing the strain of supply chain disruptions and tackling weaknesses in the supply chain ecosystem that were amplified by the pandemic.
SATS, a company behind the bulk of Singapore's airfreight handling, is not spared from the challenges faced by the industry. Handling an average of 6.9 million packages from 485,000 shipments a year, they have to ensure that all cargo is labelled properly for the goods to reach the correct destination on time.
"The existing format of cargo labelling is fragmented across the global airfreight industry. This poses a huge challenge for our ground handlers," said Ms Linda Ng, Senior Manager, Operations Development and Quality, SATS.
The Air Waybill (AWB) label that accompanies each air cargo package comes in different sizes, layouts, and carries varied information. The situation becomes more complex when different parties handling the shipment from origin to destination attach their own tracking labels, making end-to-end traceability more difficult.
To solve this pain point, SATS turned to open innovation through the Trade and Connectivity Challenge 2020.
"We thought open innovation would be a great platform and opportunity for local startups and SMEs to showcase their solutions and contribute to Singapore's airfreight industry. It is a good chance for us to better understand potential solutions beyond the status quo," said Ms Ng.
Going digital across borders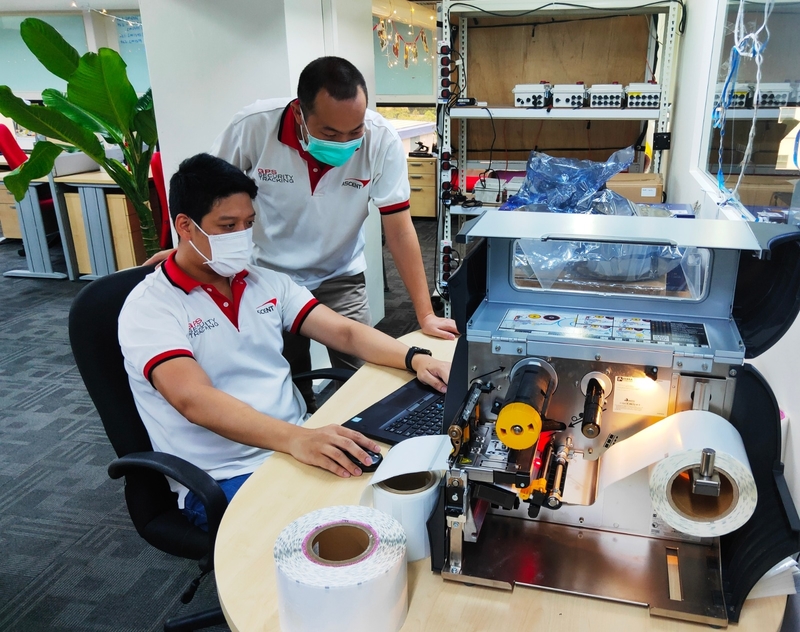 Ascent team working on the Smart Air Waybill (From left to right: Jonathan Phay, Project Lead; Feng Shao Hua, Principal Software Engineer).
Source: Ascent Solutions
When Mr Lim Chee Kean, CEO and Founder of Ascent Solutions, heard about the SATS challenge to devise tagging solutions for airfreight shipments, something immediately clicked in his mind.
Having worked with the global supply chain community since the 1990s, Mr Lim is no stranger to labelling inefficiencies. Now heading a Singapore-incorporated company specialising in Internet of Things (IoT) track-and-trace solutions for the global supply chain and other industrial verticals, he saw the opportunity to develop a radio frequency identification (RFID) tagging solution for air cargo.
"As one of the world's busiest air hubs, Singapore can be the launchpad for the tagging solution," said Mr Lim, who sees the potential of the solution to evolve into an international standard.
Ascent proposes to standardise AWB labelling via a Smart AWB meta data-sequence with a standardised reading format that provides end-to-end traceability across the airfreight industry. Users will receive real-time push notifications and alerts and can view cargo movements over a cloud-based platform. The integrated system facilitates automation with the use of RFID technology. It also improves operational efficiency and reduces costs with higher visibility of cargo movement and ease of tracking.
Ascent's Smart AWB track-and-trace solution beat six other vendors to clinch the winning spot for SATS' challenge statement. Since then, SATS and Ascent have been working closely to identify potential gaps and pain points to be addressed in a holistic way. They have embarked on a six-month proof-of-concept (POC) project to test the viability of the smart tracking system with an automated RFID gantry for shipments.
"Post-POC, SATS plans to engage our stakeholders in the air freight community to work on adopting the Smart AWB labelling solution first at Singapore's Changi Hub, before exploring deployment across our regional cargo terminal operation network. We will simultaneously involve our overseas joint venture partners to participate in the next phase of trials and implementations," shared Ms Ng.
For Ascent, the opportunity to improve airfreight efficiency not only in Singapore, but potentially around the world, is an exciting prospect.
"Being new to open innovation, this journey has helped us understand the industry-wide problems a lot better," said Mr Lim. "Our current focus is to work very closely with SATS to deliver this project really well. We truly believe this will be game-changing and that this can transform the industry."
The virtual manager gets the job done
Like SATS, YCH Group is another major player in the supply chain ecosystem looking to open innovation to keep trade and goods moving.
In a highly disruptive COVID-19 environment, logistics companies like YCH are gearing up to be agile in deploying resources to critical functions. To bolster operations, YCH seeks a predictive resource management and planning solution to optimise manpower and equipment use. The solution must also cater for business continuity planning, safe-distancing and workforce segregation in a post-COVID-19 work setting.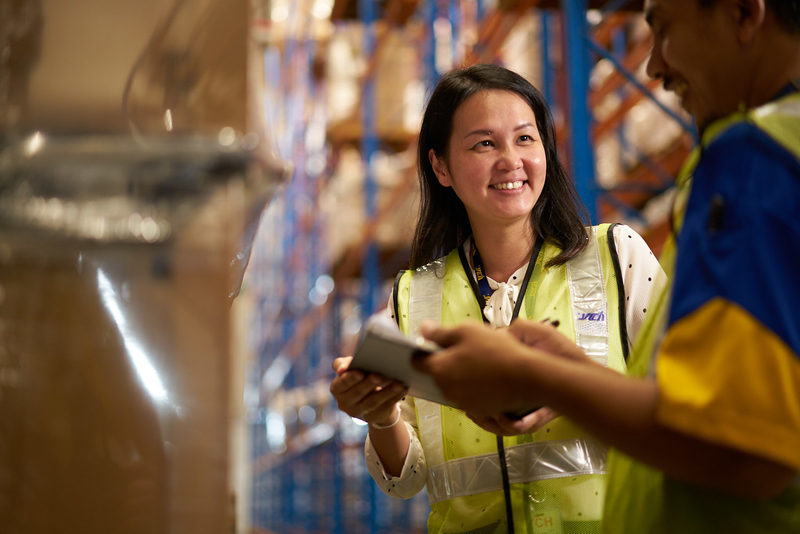 With human resources being a huge asset of YCH Group, its partnership with Fieldbox,ai will help to optimise labour utilisation, improving overall productivity. Source: YCH Group
When YCH put up its challenge for open innovation, FieldBox.ai's proposed AI-based Warehouse Operations Virtual Manager (WOVM) ticked the right boxes.
Mr Ryan Yap, Head of Growth at YCH explained, "FieldBox's previous projects span different industries with varied complexities. Their experience in using artificial intelligence (AI) to deploy resources appealed to our goal of allocating resources based on increasing and complex shipping factors."
The WOVM is a cloud-based platform that leverages an extensive network of IoT sensors for personnel and equipment tracking. It will allow YCH to leverage AI analytics to make better decisions, be it to improve salary, reduce human resource costs or retain the best people. The WOVM also tracks key assets and allocates tasks.

FieldBox.ai credited the project for the opportunity to apply its technology to new industries.
"Co-innovation is part of our DNA. Jointly developing solutions with our clients is a way for us to validate the need and appetite for AI solutions for complex operations. This was clearly a good way for us to grow our business in Singapore and to also grow our solution in the logistics and supply chain solution provider space," said Mr Clement Collignon, Director APAC at FieldBox.ai.
Still, achieving success in a co-creation innovation project takes hard work. "There were challenges, such as drilling down the specifics we hope to derive from the outcome and mapping the kind of data sources needed for analytics," said Mr Yap. "Clement and I had long conversations about the project. We built up a good working relationship and our chemistry is very important in overcoming the challenges."
Open innovation can be a game changer
Like Ascent and FieldBox.ai, you can partner companies through open innovation to co-create solutions that have industry-wide benefits.
Mr Law Chung Ming, Executive Director of Transport & Logistics at Enterprise Singapore suggests, "In today's age, tech-enabled innovation can be a game changer. This year, the Trade and Connectivity Challenge is back for its third edition. Startups can look forward to opportunities to work with nine global and local corporate partners such as dnata, Legend Logistics, Lumens Auto, Sembcorp Marine and UPS, to showcase the capability of their solutions for real-world applications."
Have an innovative solution to address on-the-ground operational needs in the aviation, maritime, land mobility, logistics and trade sectors? Come join the Trade and Connectivity Challenge (TCC) 2021 today! Application closes on 30 December 2021.
TCC 2021 is organised by Enterprise Singapore, supported by IPI Singapore, and powered by Agorize and the Open Innovation Network.
Sign up for the latest innovation updates
Customise your preferences to receive updates in industries you're interested in.